By emu_kidid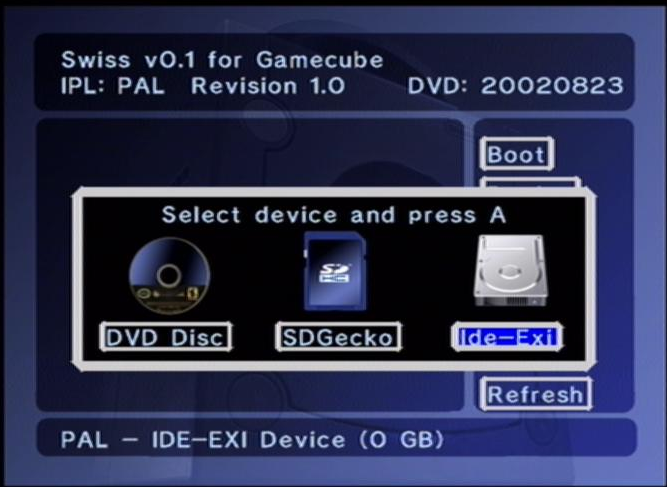 Swiss 0.1
Well it's finally here - Swiss version 0.1
Please note that from this point on - I'd consider every aspect of this as Work in Progress - and this is why it is open to the public now. Your bug finding and suggestions will be the bloodlines to this project
Background:
Swiss is the software that I've been developing on and off the past few months or so. I've labelled it "Swiss" because it'll hopefully (not initially) boast more features than any other homebrew Gamecube utility out there. It is very losely based on the SD-Boot source but about 90% was re-written
It is 100% open sourced and available online so you can see changes as I make them and I'll be releasing binary versions with every new feature/improvement.
Current Features:
- Load DOL from SD/SDHC/DVD-R/HDD
- Load GCM/ISO from Original Disc/SD/SDHC/DVD-R/HDD
- Multi-Game DVD-R support (Cobra/GCOS)
- Multi-Disc support Original Disc/SD/SDHC/DVD-R/HDD
- Disc Ripping to SD/SDHC/HDD (WIP)
- Region free / Video forcing (480p) (WIP)
- Full cheat engine for all games (update it via SD/SDHC)
*HDD features require a IDE-EXI or homemade adapter
**SD features require a SDGecko or homemade adapter
Definite future features (in order of priority):
- Memory Card Management
- USBGecko/SE support
- IPL/SRAM/DVD-ROM/RAM dumping
- IPL Configuration
IMPORTANT:
- 480P video mode forcing is Work in Progress - it may not work at all yet!
- Disc dumping is known to corrupt some HDD's - still work in progress!
BUGS:
- Audio Streaming games on original DVD are broken on Wii

Source Download
Binary Download
* DO NOT USE an Action Replay or SD Media Launcher Disc as the boot disc *
download -
http://code.google.com/p/swiss-gc/downloads/list
source -
gc-forever - Gamecube/Wii Forums - View topic - Swiss 0.1
----------------------------------------------
Wii Swiss Booter
by WiiPower
Version 0.2:
http://www.mediafire.com/?l94drvg5efk2g03
Version 0.1:
http://www.mediafire.com/?spdzt88k4zfwaxx
What's this?
This program searches all storage for the swiss executable and then runs it in gamecube mode. It does require a cMIOS to do this like other gamecube homebrew booters. But this is modified to execute one command MIOS would execute and which is required to reset the drive. Short: Other gamecube homebrew booters may not allow the booted gamecube homebrew to reset the drive, this one does.
Current status:
- No graphics output at all
- No errors or warnings, it will either work or not
- USB storage might not be working(did not work for me, but the code is there...)
I'm open to suggestions on how to improve this or how to spell the text for the HBC better.
source -
http://www.gc-forever.com/forums/vie....php?f=6&t=371
-----------------------------------------
The IDE-EXI that allows the use of a hdd is $32 (+ $14 S&H to the USA). Or you can make your own.
This should work in a Wii with a cMIOS.
IDE-EXI arrives and web store opens!
* Poster: emu_kidid
* Sat Jan 22, 2011 11:57 pm
I'm proud to announce the opening of the gc-forever web store and also the arrival of the IDE-EXI
You can access the web store from the left side of the main page under "Web Store".
I have about 60 IDE-EXI's to sell, there are about 10 reserved, and 30 will be going to liquitt to sell from Europe (shortly).
The web store is a little empty right now, but I'll add in a few more items as time passes.
ETA for things currently is set at:
- IDE-EXI shipping commences around the 28/01/2011
- Swiss beta will be released at around the same time
- The Europe web-store should be opening shortly too
A device which allows an IDE ATA HDD (or SATA through a bi-lateral IDE-SATA compatible adapter) to be connected to your Gamecube or Wii via the Memory Card slots for homebrew and storage purposes.
The adapter supports up to 2 TB with full LBA 48 support.
* Capabilities of launching Gamecube Mode unsigned code are required before you can use this device on a GC and Wii.
** A separate power source is required for the compatible HDD connected to the IDE-EXI adapter.
*** The adapter PCB is the perfect thickness so that it does not move around freely in the slot - also using a IDE cable is so that there will not be any stress on the connector.
source -
gc-forever - Gamecube/Wii Forums - View topic - IDE-EXI arrives and web store opens!
webstore -
gc-forever — GC IDE-EXI Adapter